Being a sports specialist websites we've been asked to provide prescription sunglasses for many people in extreme sports environments. However, none have been more extreme than than the environment Richard faced. He decided to undertake the Des Sable Marathon race. A gruelling race in 6 days and 250km across the Sahara Desert.
When Richard retired from teaching he not only missed it but at 17 stone with a dodgy knee and shoulder he wasn't living the life he thought he would. "Too much good food and good wine" had culminated in him barely being able to walk a mile. But a holiday to France reignited his love for sport and the challenge.
"The feeling when you've achieved your goal, especially when failure is always possible" he told me is what spurred him on.
He started setting himself challenges like John O'Groats to Nantwich. But eventually he was looking for something a little more spectacular.
That came in the form of Marathon des Sables in Morocco. A 250km route across the Sahara desert in temperatures that can reach 50°c. Its such a tough race that you need to pass a medical and heart check before you are allowed to race. It has pushed even experienced runners to breaking point.
Supportive as his wife Gill was, she insisted that for this race Richard had to train, extensively, so he embarked on nine months which included training in Manchester Metropolitan Universities technologically advanced climatic chamber to prepare for the heat.
His seeking of technological advice brought him to Eyekit. We set him up with an appointment at our practice with our optician Phillippa. He had a Sports Sight Test and discussion with our optician about his needs and requirement for the race. "I came in with low expectations. Other companies weren't aware of what I needed and didn't know where to find out." He told me. "Your questions were, how can we accommodate you and your needs? You then took time out to really understand my requirements. The glasses were outstanding. This was not just an off the shelf solution. I have significant astigmatism which together with a need for sports glasses that could resist blown sand and a photochromatic lens for the harsh sun of the Sahara and the darkness of the night stages."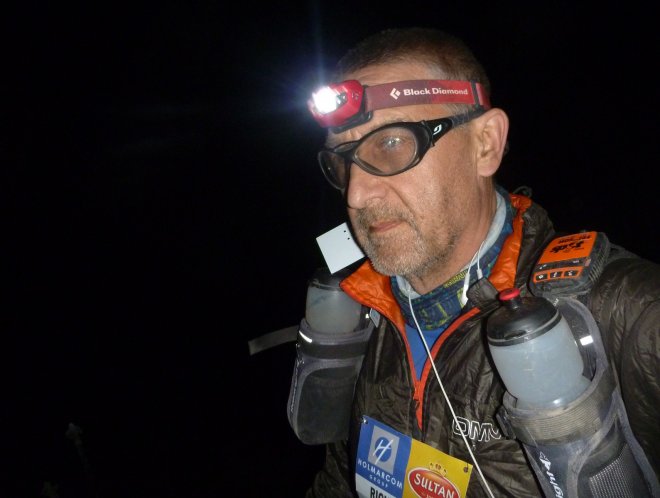 The frame he chose was the JULBO EXPLORER fitted with photochromic sports prescription varifocal lens. These are designed to start clear and then change tint density dependent on the light conditions down to allowing around 10% light transmission, which is a category 3 lens.
The varifocals were specifically designed to meets his needs. A wide field of view with uninterrupted focus. Optical distances that enabled him to have smooth transitions between a need to see his watch/map, optimised for the immediate few metres in-front of him to enable him to accurately see the ground he is running over and the distance to enable him to focus on the terrain and distant markers. He remarked to me since his return that even back in the UK these lenses are better than his £700 normal glasses.
Trained and trimmed down to 12 stone, with his Julbo Explorer sunglasses from Eyekit and the compulsory kit all racers must have (including venom pump for snakes, spiders and scorpions - an added danger when racing in the desert), he flew to Ouarazate in Morocco.
Two days into the race he suffered such extreme swelling and blistering that after the event a podiatrist commented that he'd never seen anything as bad in 26 years of practice.
Day 4 and 5 were a surprise for everyone as this was the 30th Anniversary year of the race. The organisers decided to celebrate by having an extra challenge'the longest day' in the race history - 57 miles in 36 hours. It required a day and night and then some. Richard told me that it was during this race the sunglasses came into their own. Going for a photochromic lenses that started clear meant he wore them continually for 24 hours "perfect at night and excellent during the day, no chaffing from sweat or sand". That's not to say he wasn't relieved when it was over and he could take them off. Meeting his team mates after the'Longest Day' prompted hugs and cheers from tent team mates.
The next to days were a blur until the end came at last. "A shiver shot up and down my spine- I'd done it" and at 63 years old, Richard was the was the second oldest Briton to finish even beating Sir Ranulph Fiennes (pictured left with him in front of the Le Berbere Palace) "Although he is 71 has had a double bypass operation, 2 heart attacks and is a diabetic"he added.
On his return from the race he discovered his Daughter Kim and son Rob had set up a page to sponsor him which has raised over £2000 for the charity Breakthrough Breast Cancer. Click here for more details.
Overall remarks of how his eyewear performed: "I'd like to moan" he said "but I have nothing what so ever. I was expecting misting which didn't happen. The glasses are not discreet but there's no compromise and irritation. Comfortable all day and night"
This is not the last you'll hear from Richard as the day after I interviewed him he had just flown out to participate in the 120+ Antarctic running race with an additional pair of Eyekit prescription goggles.
If this has wet your appetite and you are interested in racing next year, you can apply here: http://www.marathondessables.co.uk/
Send us your story with a photo of you and your Eyekit eyewear in action and we would love to put it on our website. Any story that makes our website we will give you a £20 voucher off your next purchase at Eyekit. Email story and photo to: [email protected]